This post may contain affiliate links for which I could earn a commission.
The
Ironman Gravity 3000 Inversion Table
 with memory foam is one of the few on the market that can handle a maximum weight capacity of 350 lbs. This, along with its economic price, allows the heavier user to take advantage of inversion therapy.
Although one if their cheaper tables, the 3000 does not skimp on the essentials.  It might not have all the features of more expensive inversion tables, but, as a basic model, it will provide the user with back relief and reduce stress.
By including this particular model with its weight capacity and price in their range, Ironman have increased the number of individuals who can benefit from inversion therapy.
It is worth noting that some inversion table models are sometimes sold under more than one product name by different sellers. In this particular case, the Ironman Gravity 3000 is also sold as the Ironman 5800. As you can imagine, this can often lead to much confusion. 
Assembly
The Gravity 3000 isn't particularly difficult to assemble and set up. It takes the average person about 30 minutes or so.  It also comes with fairly clear instructions.
Design
The 3000 comes with a comfortable 2" multi-layered vinyl covered Memory foam back board which supports your head and back.
It is designed with extra-long foam covered safety handles and 3 adjustments for inverting at different angles.  It also inverts up to 180 degrees.
Build Quality
Includes extra wide steel tube frame for additional weight support to accommodate users of up to 350 lbs. Scratch resistant powder coated finish
Ironman Gravity 3000 Demonstration
Ankle Support
The ankle support has a long quick-release handle with ratchet system which provides secure locking and unlocking of the ankles. This means that users with problems bending over won't need to bend down too much to release the ankles.
Ergonomically molded ankle cushions provide the user with both comfort and support.  Some users however, like to use a combination of socks and shoes for added comfort.
Capacity
The Ironman Gravity 3000 will support users up to 350 lbs and can be adjusted for users up to 6' 6" in height.
The product weighs 75 lbs (34 Kg).
When fully set up, the 5800 measures 49″L x 26″W x 65″H (124L x 66W x 165H cm). Folded dimensions are 80″H x 26″W x 17″D (203H x 66W x 43D cm).
Inverting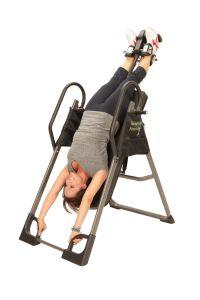 When trying out the Ironman 3000 Memory Foam Inversion Table for the first time, start off with the balance position. You lie on the table with your hands at the side and the table moves to the horizontal position. Move your arms higher to your chest, and this will cause the table to tilt past the horizontal position. Moving them back to your sides will make the table swing back to horizontal. Stretching your arms up past your head will make the table move towards the vertical position.
When starting off for the first time, do not try the vertical position straight away. Instead, for the first few days, try the lower angles to accustom you to having the blood rush to your head. Inverting too quickly can result in your feeling dizzy or sick.
After being upside down for a few minutes, slowly come up again and linger in the horizontal position before straightening your body.  The extra-long handlebars assist in the user to pull themselves back up. Once you get used to inverting, you can then think about doing some core exercises.
An important feature of the table is the tether strap.  This controls the maximum starting angle and allows the first-time user to get used to being upside down without the worry of inverting past their comfortable angle.
The backrest with its foam backing provides a high level of comfort and back support while working towards complete inversion.
Storage
The Ironman Gravity 3000 inversion table does fold for storage but, like almost all other folding inversion tables, they are not easy to fold away, or move to another room.
Safety
Safety is taken care of because the 3000 has an extra sturdy steel frame which makes users feel more secure when inverting and so assist in the relief of stress.  The frame is also built to endure the higher weight capacity of up to 350 lbs.
There are also tough rubber non-skid floor stabilizers to prevent any movement while inverting, and the addition of safety vinyl side covers for hand and finger protection.
Warranty
The frame is warranted for one year, with parts and workmanship free from defects for 90 days.
Pros
Supports 50 lbs more than most other machines
Has all the basic elements for inversion therapy
Quality inversion experience at an economic price
Cons
Lacks ability to add accessories
Difficult to store, even after folding
Ankle holder may not be comfortable enough
Price
The Ironman Gravity 3000 inversion table is a quality, sturdy and economic inversion table. It does not have all the extra benefits and features that premium inversion tables have but it does have the basics necessary for inversion therapy.
Because of its ability to cope with users weighing up to 350 lbs, the 3000 inversion table is suitable for the larger, heavier person.
You can find sturdy, comfortable and quality equipment with economic price.
Factors to Consider
Two major selling points for this table are its ability to support larger people and its very economic price at just over $200 making it available to people on a restricted budget.
Although it is a basic model without all the bells and whistles of more expensive inversion tables, it does have all the basics you need successful inversion therapy.
What Customers Say
Amazon customers generally like the Ironman Gravity 3000 Inversion Table and find it provides all the necessary basics to provide the solution they need. Importantly, they feel safe while fully inverted because of the solid, well-built nature of the device.