An inversion table comes with numerous health benefits.
If you are looking to get in on the action, you may find yourself looking at the Health Gear ITM5500 Advanced Inversion Technology with Vibrating Massage and Heat.
Finding the right inversion table to invest in can make or break your experience and this table comes with most things that you would want in a table while, at the same time, being very easy and convenient to use.
By the end of this review, you should be able to tell whether or not this product is right for you.
Review of the Health Gear ITM5500 Inversion Table
Design
This inversion table looks as comfortable as it is. The table itself was designed and engineered to relieve back pain as well as possible.
The table's backrest features an ergonomically designed memory-style foam that is 4 inches thick. Therefore, you are getting an inversion table that is as comfy as it can be. Many other inversion tables are uncomfortably stiff and lack the support this one has.
Assembly
Finding an inversion table that has convenience in assembly can be a deal breaker for some people. After all, who wants to spend hours putting together an inversion table? Luckily, Health Gear put a lot of thought and effort into ensuring that this inversion table is quick, convenient, and easy to assembly.
Build Quality
When you are in the market for an inversion table, the build quality should be a major consideration in your buying decision. After all, you will be using it often and the last thing you want is the table breaking down. Not only will it reduce the value it offers you, but it can prove to be a safety hazard.
The Health Gear ITM5500 table is made up of a heavy gauge steel tube frame and it is finished with a scratch-resistant powder coating. Therefore, you can count on this inversion table to withstand major wear and tear without even showing signs of aging.
Ankle Support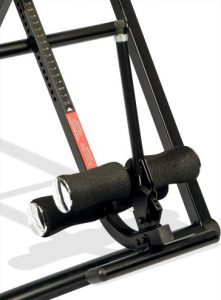 Having comfortable and adequate ankle support can be another important consideration when buying an inversion table.
The ITM5500 inversion table comes with a Sur-lock easy 'in and out' ankle support system.
Not only that, but it also offers 4 adjustable foam leg rollers to ensure that you are comfortable throughout the inversion process.
Capacity
Having a table that is capable of holding your weight is another major consideration. This table maxes out at 300 pounds weight capacity. Also, it can accommodate anyone from 5 foot 1 inch to 6 foot 5 inches. Therefore, it is suitable for a wide range of people with varying height and weight.
Inverting
This table comes equipped with a convenient and easy-to-use 4 position side inversion pin which will enable you to quickly, safely, and comfortably swap your inversion position. You can choose from different levels including 20, 40, 60, and 90 degrees.
Storage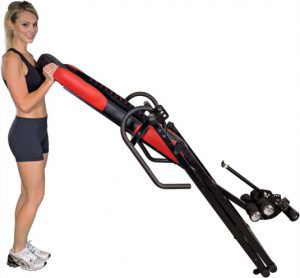 Health Gear purposefully designed this table to be suitable for those with limited space available.
The unit features a space-saving design as the table is capable of being folded for easy closet storage.
Also, the table has built-in transportation options with easy-to-use wheels attached to the base.
Safety
Health Gear notes that each unit is tested and approved by a 50 point safety and performance test.
Several features make the inversion table safe to use according to the makers. For one, it's high build quality being completely made up of heavy gauge steel.
However, it also features an easy-to-use side inversion pin which helps to make quick and safe selections of inversion positions.
Also, the over-sized leg rollers ensure that you are kept as secure as possible throughout the entire time using it.
Additional Features
Deluxe Heat and Vibrating Massage Pad: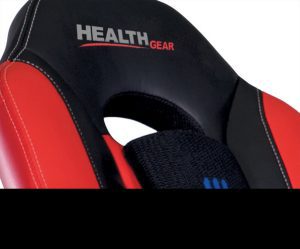 This is perhaps one of the standout features being offered by the Health Gear ITM5500 inversion table.
It comes with a built-in deluxe vibrating massage pad which can offer you even more comfort and relief throughout your inversion sessions.
If you are buying the table for relief from back pain, there is simply no better feature you could ask for.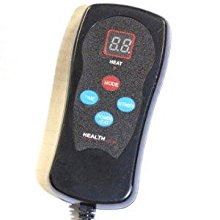 Best of all, it comes with a multi-function hand controller that you can use for easy massage adjustment. Thus, you will be able to conveniently adjust the heat and massage intensity while on or off the table.
The pad can even detach from the table which means you can use it while you're not even using the inversion table for portable relief!
Height Adjustment: The table is incredibly easy to adjust the height. This means that you can buy a single table for the family and multiple people at different heights can use it without hassle.
Warranty
This table comes with a 30-day warranty.
Other Factors To Consider
Comfort: The majority of buyers who opt for this table are likely prioritizing comfort above all else.
If you are buying an inversion table to improve lower or upper back pain, there is no better option.
Weight: You need to be certain that you fit within the weight limitations of the table.
Pros
Comfort
As mentioned, this is easily one of the most comfortable inversion tables in the marketplace
Construction
The build quality of this table is incredible and you can expect it to last a long time.
Cons
Color. For most, this won't be a deal-breaker, but the inversion table looks like it belongs in the gym. If you are going to be using it in your living room, it may not mesh well with your decor. However, it's space-saving and portability more than makeup for it.
Price
At the moment, this inversion table can be purchased on Amazon.com for under $200.
Conclusion
The Health Gear ITM5500 Advanced Inversion Technology with Vibrating Massage and Heat is one of the better inversion tables you will find in the marketplace. It comes with everything you could want in a table and it is very easy and convenient to use.
You should consider buying this table if…
You want a comfortable inversion table
You want a space-saving design
You don't mind paying for quality
Before you use any product for health care, always consult with your physician or primary healthcare provider and seek the appropriate advice and supervision prior to use.
This post may contain affiliate links for which I could earn a commission. This does not change the price you would pay.