Stamina Seated Inversion Chair
The 
Stamina Seated Inversion Chair created by Stamina Products
has a unique feature that you won't find on many other comparable equipment – The user is seated before inverting.
This has the great benefit of allowing the person to get comfortable before inverting as well as making it easier to fit the ankle straps.
This can be of particular benefit to older users.
Built for comfortable, secure and stable inverting therapy users of most heights, it has a ratcheting leg lock system with a push-button release to hold the ankles securely.
It comes with padded handlebars which enable the user to invert easier and return. 
It also comes with skid resistant rubber floor protectors giving it a secure and stable feel.
Review of the Stamina Seated Inversion Chair
Assembly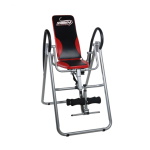 Some assembly is required with most customers finding the table easy to assemble but it can take some time.
Design
Because of its design, the Stamina Seated InLine Inversion System is great for people with severe back pain or indeed older people who often have trouble getting on and off a standard inverting table.
Build Quality
The frame is constructed of heavy, durable steel with non-slip legs and an adjustable belt.
Instructions
The Stamina Seated comes complete with owner's manual.
Ankle Support
The ankles are supported by foam-padded, comfortable supports, with adjustment to fit the user's thigh length.
The adjustable foot bar provides further comfort to the user, as does the height beam, being adjustable to make this table a perfect fit.
Capacity
The inversion table weighs 74 lbs and has a maximum weight capacity of 250 lbs.
The dimensions are 50 " long x 27.5″ wide x 54.5″ high.
Inverting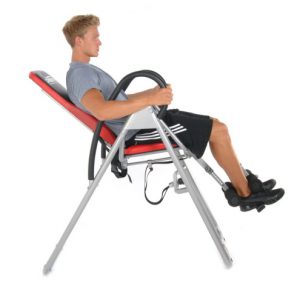 Inverting is very simple.  The seated starting position allows for easy mounting and dismounting.
In order to invert, all you do is sit on the seat and then move it to its inversion table position. This has the advantage of giving you all the benefits of inversion therapy such as reduced back stress, improved circulation, pressure relief on joints, ligaments and discs etc. without the problem of positioning yourself on a standard inversion table. 
It couldn't be much easier
The tether strap allows the user to pre-set the angle of inversion.
Storage
The Stamina Inversion Table does not fold up for storage.  For this reason, it is therefore better to find a permanent place to set the device up in.
Safety
Many people consider the Stamina Seated Inversion Chair to be one of the safest inversion tables around. This is because the user remains in the seated position prior to inverting.
The frame is constructed of heavy-duty steel, and this, along with the Skid resistant rubber floor protectors gives users a feeling of security when inverting.
With its adjustable height bar, lap belt, and footrest, it helps to provide a customized inversion experience.
Additional Features
Cushioned, comfortable upholstery
Adjustable height bar
Ratcheting leg lock system for safety and comfort with push-button lever to secure and release ankles
Foam padded ankle supports
Comfortable, padded handlebars for easy, comfortable inversion and return
Hand brake holds chair for easy mounting and dismounting
Inversion system designed for comfortable, secure, and stable inversion therapy for users of most heights
Warranty
The product comes with a one-year frame warranty and 90-day parts warranty.
Pros
Seated starting and finishing position
Easier to mount and dismount than standard tables
Sturdy frame gives feeling of safety
Great for seniors
Cons
Assembly can take some time
Not adjustable for very tall people
Factors to Consider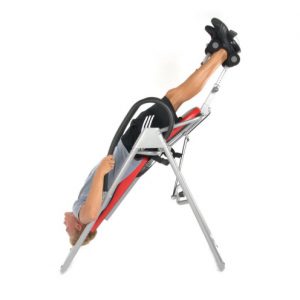 The Stamina Seated inversion chair has the great benefit of allowing the user to sit in a chair and get comfortable before inverting.  This, and the ability to fit the ankle straps from the seated position is of particular benefit to older users, or those with reduced flexibility.
When you think of it, for a one-off investment, you would also be saving money on not having to make regular visits to the Chiropractor.
This seated inversion table is a good choice for people who suffer from severe back pain and who aren't able to use a standard upright inversion table.
Customer Reviews
Customers at Amazon give the Stamina Seated a high rating. The ability to be seated is a major one for many of the customers who acquired this inversion table.  Those suffering from severe back pain particularly appreciated this feature.
Stamina Seated Inversion Chair Price
For an inversion table, there is no doubt that the price of this device is near the high-end.  You could of course go for one of the cheaper table models that are available.  However, you have to remember that this is one of the very few tables that allow the user to start from a seated position.
At the same time, it is very sturdy and makes the user feel safe and secure when inverted.  This is a major point to bear in mind when you consider that cheaper table models can often feel wobbly and less safe.
Before you use any product for health care, always consult with your physician or primary healthcare provider and seek the appropriate advice and supervision prior to use.
This post may contain affiliate links for which I could earn a commission. This does not change the price you would pay.