Just when you think in-home gym equipment can't get better than a quality rower, especially when you struggle with back pain, something like the Teeter Power 10 Eliptical rower comes along. Not only does it redefine a machine that removes impact and exercises 85% of your muscles, but it also takes home workouts to a new level.
Now you can exercise all your muscles without impact, and you can change your routine on the fly.
Review of the Teeter Power 10
Design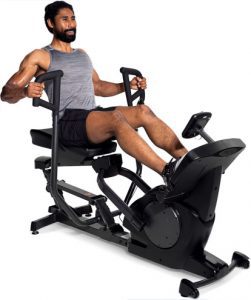 The Power 10 Eliptical rower features a very sleek design.
However, it does not just look good and inviting.
This particular rower is also designed to be durable, convenient, and it can easily adapt to your needs.
At the same time, it provides the ability to switch from a pulling motion to a pushing motion. This activates different muscle groups, as well as allows tired muscles to rest and regenerate until they have to start pulling again.
Assembly
If you are worried about assembling the rower once it reaches your door, don't. Instead of having to struggle with just an instruction booklet, you can access 3D interactive instructions via a free app called BILT.
In other words, you can be sure about putting everything in the right place without building up unnecessary frustration first.
Build Quality
It is important to note that the Power 10 is designed and manufactured with a Teeter-backed guarantee in terms of quality.
This is a company that has been focused on addressing back pain issues for the last 35-years, and their inversion tables are known for always being high-quality.
Thus, they work according to the same high standards with every piece of exercise equipment they produce.
Resistance
You can toy around with 7 different resistance levels on this rower. For example, the high resistance levels are great for full-body strengthening, while the lower levels are great for building endurance.
You will also be happy to know the rower runs silently, seeing as there are no parts that connect and cause friction.
Console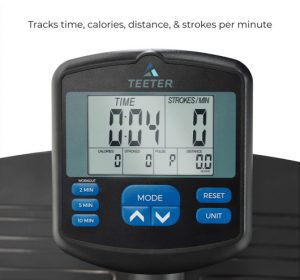 The console is not the most exciting part about the rower.
However, it is very easy to use and it provides important information for tracking your workout.
For instance, the digital performance monitor can inform you about the time of your session, the calories you burn, the distance you row, the number of strokes, and you can even monitor your heart rate via a Bluetooth heart-rate chest strap.
Settings
One element that really helps to make the Teeter Power 10 rower stand out is the multitude of settings available.
Apart from the resistance levels, you are at liberty to adjust the stroke length, the height of the seat according to your comfort, and the quick-release foot straps keep your feet in place.
As for the handlebars, they do not need to be adjusted. They are designed so you can quickly and smoothly change your grip.
Storage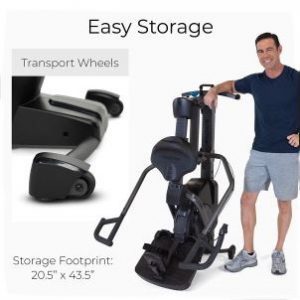 Space can be a problem if you do not have enough.
Luckily, the Teeter Power 10 rower is designed to store in an upright position.
Once you are done with your session, simply roll it to where you want it thanks to the built-in wheels, and put it in an upright position until your next session.
Warranty
The warranty is divided into two sections. The first is a 90-day limited warranty that covers the base of the product, as well as the moving parts.
The second warranty extends for a year, and it covers everything else the limited-warranty doesn't.
Pros
Full body workout with very low impact
Pull and push motion, which activates different muscle areas
Enhance strength and endurance
Great for beginners and experts
Can easily be stored, and it is portable thanks to the wheels
Quality build and design
Keep track of your workout via the digital performance monitor
Get access to on-demand workouts via Teeter Move app
Several setting options for a comfortable workout
The perfect machine if you have back pain
Cons
Does not come with an interactive smart screen
Could be too pricey for some
Price
At the time of this review, the Power 10 rower was offered at $1,149.99 once-off. Alternatively, you can get it through monthly installments of $96.
Conclusion
There is no doubt about it, the Teeter Power 10 Elliptical rower will likely change your perspective about staying in shape and having fun.
In addition to taking pressure off your joints, you are allowed to mix up your session from pulling to pushing, and then switch back again.
The resistance levels are challenging enough for the toughest athlete, and the rower can easily be stored without taking too much space.
And be sure to check out the Teeter Move app, which features on-demand workouts from professional trainers without having to subscribe to anything.
Before you use any product for fitness or health care, always consult with your physician or primary healthcare provider and seek the appropriate advice and supervision prior to use.
This post may contain affiliate links for which I could earn a commission. This does not change the price you would pay.