The Teeter Hang Ups EP-560 inversion table is still, without doubt, one of the best inversion tables on the market today. Now superceded by the FitSpine X1, it is still very highly rated.
Used for both inversion therapy and core workouts, it is a very popular choice of quality inversion table.
The experience of Teeter Hang Ups, as a premier designer and manufacturer of quality inversion tables since the early 1980's, has been applied to this unit with great success.
Consumers like the fact that this table comes from a trusted company that is a leader in the industry. It also has a reputation for incomparable quality, standards and testing which is borne out in many customer reviews.
With the EP-560, Teeter PROVES it is a company that believes in Commitment to Quality and that you should target the source of your pain and not just cover up the symptoms.
How Can the Teeter Hang Ups EP-560 Inversion Table Help You?
Investing in a Teeter EP-560 inversion table could help you in many ways including:
Relieving back pain
Decompressing spine helping blood circulation
Relieving joint and muscle stress
Increasing muscle strength and improve your posture
Strengthening your back
Reducing problems sleeping
Helping you stay in shape
Reducing stress
Design
Teeter Hang Ups have some of the best designed and built inversion tables in the industry and are the only inversion brand with certified quality.
Assembly
Very easy to assemble and set up.  The table is dispatched 90% pre-assembled and comes with full instructions.  Although the company state that it takes 13 minutes to assemble the EP-560, we reckon that it would take the average person about 15 – 25 minutes to initially set up the table, including easily adjusting the settings for their own weight and height.
Build Quality
The EP-560 is solidly built out of heat-treated carbon steel, has auto-locking hinges and special squeak-free pivot bearings. It will therefore last a very long time with normal use.
Instructions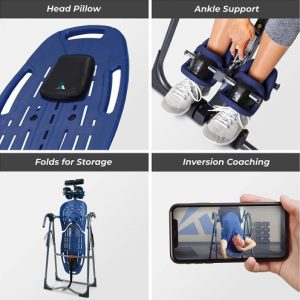 Learning how to use the Teeter EP-560 is also easy and takes only minutes as the system is very simple to understand and use.
To show you how to use the table correctly for both decompression and core workouts, the product comes shipped with:
a laminated owner's manual
an inversion coaching phone app
This inversion table is great for both beginners and more experienced users alike.
Ankle Support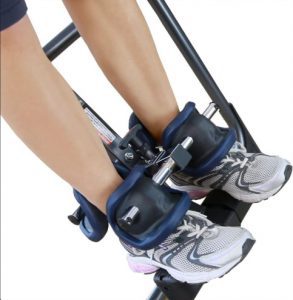 The EP-560 comes with special Pressure-Reducing foam ankle locks and a comfort dial. These are curved to fit snugly around your ankles and so reduce the pressure on your ankles when you invert.
The Teeter EP-560 will give you far less discomfort than other brands.
Capacity
The machine accommodates people between 4 foot, 8 inches and 6 foot, 6 inches high. The maximum user's weight is 300 Pounds.
Inverting
The Teeter Hang Ups EP-560 has to be one of the easiest devices to use, from initial setup right through to folding it up and putting away. You will certainly notice during the inversion process, how smooth, comfortable and easy it is both inverting and returning to the starting position.
As well as the flexible table that flexes with your body, the EP-560 also allows air circulation for the back. When you compare this to your body sinking into the cheap foam cushions of rival tables, there is no competition. This means that you can invert without having to worry about anything and thus concentrate on stretching and reducing your back pain. This is something that you won't experience with other cheaper inversion tables.
Storage
The product is easily fold-able – The EP-560 table can be folded away in under half a minute and is easy to store in a closet or behind a door when not in use.
Because the EP-560 is solidly built out of quality materials, it is quite heavy, about 67 pounds when packaged, and care should be taken when moving it.
Safety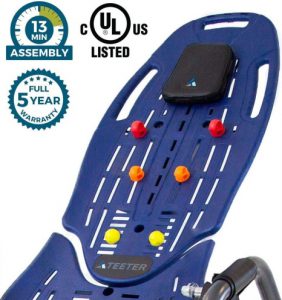 This Teeter Hang Ups EP-560 review believes that safety is a major concern when choosing an inversion table.
Teeter makes the only inversion tables that are tested and certified to by UL®, an independent product safety certification organization. Only Teeter Hang Ups is listed to the UL 1647 testing standard which guarantees key safety requirements, effectively testing inversion tables to ensure strength and endurance  for "real world" use.
Teeter inversion tables stand apart from others in the marketplace.
Teeter also work with engineers, doctors, chiropractors, athletes and everyday users to provide upgrades to their table design and to ensure consumer protection.
When you're entrusting your back and neck to a piece of equipment while hanging upside down, you want to be able to know that you can really count on it.
The EP-560 combines this engineering with Flex Technology™, thus creating one of the best-selling and most popular inversion tables on the market today.
Additional Features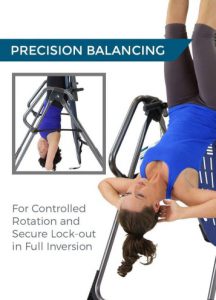 As far as additional features are concerned, the Teeter EP-560 comes with some other great features:
ComfortTrak™ Bed. The bed now comes with a small adjustable head "pillow" for additional comfort, particularly for when you're not inverting to the full 90 degrees. This innovative bed design can also accommodate the optional Acupressure Nodes and Lumbar Bridge Accessories.
To make your stretching easier and much more effective, the flexible plastic bed surface has the ability to flex with your movements and also comes with easy to reach built-in Stretch Grips.
Adjustable strap system – Teeter uses a strap system as it is simple, safe and effective.  The table doesn't have a huge number of preset angles, but the ones provided are more than sufficient for the needs of anyone.
Warranty
The Teeter Hang Ups EP-560 is offered with one of the longest and most extensive 5-year warranties, unparalleled in the industry and covering all components.
Factors To Consider
So, why buy a Teeter Hang Ups inversion table and what factors should you consider when making your purchase decision? What should you look for in deciding the best choice for you and your family?
When comparing competing brands of inversion tables, independent engineering reviews have rated Teeter Hang Ups as the Number 1 across all categories of evaluation.  This includes: ease of assembly; load and functional endurance trials; noise tests, overall performance and warranty.
Pros
Dispatched 90% pre-assembled with tools provided
Easy to assemble, maintain and fold away for storage
Comes complete with laminated manual and instructional DVD
Supports maximum user's weight up to 300 lbs
Maximum height – 6 ft, 6 inches
Full 5 year warranty, one of the best in the industry
Fully tested and certified to UL 1647 standards
Cons
It isn't the lightest device but it is a sturdy machine, and is a great balance between solid build quality and portability
It does not have the extended reach ankle system found on more expensive devices such as the FitSpine LX9 and FitSpine X3 and which would be of more benefit for those users who might have difficulty in bending over to reach their ankles
Conclusion
Teeter has been designing and building quality inversion tables since the early 1980's.
The Teeter Hang Ups EP-560 is one of the best built quality inversion tables currently available on the market today and it comes with a 5-year warranty.
This post may contain affiliate links for which I could earn a commission. This does not change the price you would pay.